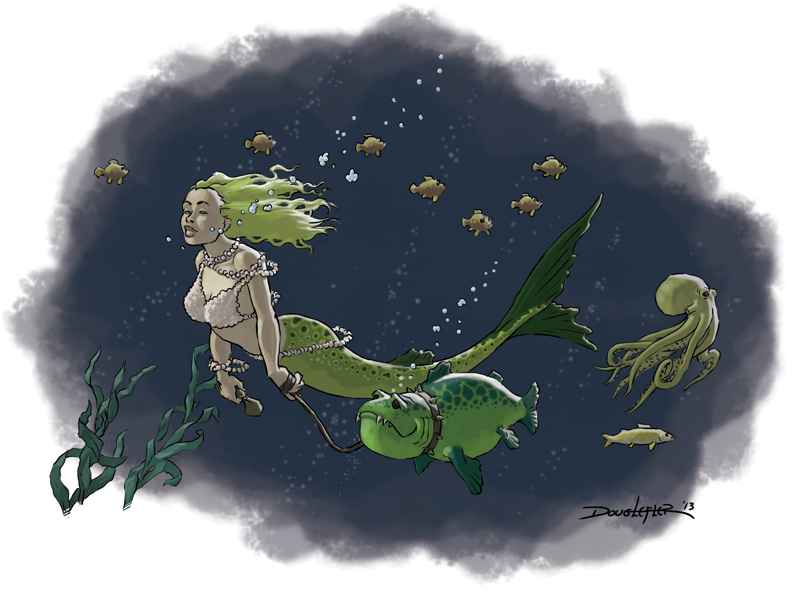 Posted on June 17, 2013 by Doug Lefler | Category(s):
News
This drawing is not to be taken literally. There is no scientific or mermatoligical evidence to suggest that mermaids do keep pets.
I just finished inking the third chapter of the Autumn & Gearlock story "Outlaws and Orphans". My approach on this series is to keep the inking simple, and allow the color do the heavy lifting.
I've been delighted with the response to the Scrollon App. Here's a sampling of what's been posted:
http://www.newsarama.com/17985-hey-scott-mccloud-scrollon-changes-the-language-of-comics.html
http://pipedreamcomics.co.uk/?p=2608
http://www.comicbookresources.com/?page=article&id=45847
http://goodereader.com/blog/digital-comic-news/scrollon-ipad-app-lets-you-travel-through-your-comics/
http://www.cnetfrance.fr/news/scrollon-la-bd-numerique-sans-pages-ni-cases-39791286.htm#xtor=RSS-300021
http://audioboo.fm/boos/1450837-spotlight-scrollon
http://www.lospaziobianco.it/80666-scrollon-fumetti-digitali-spazio-bianco