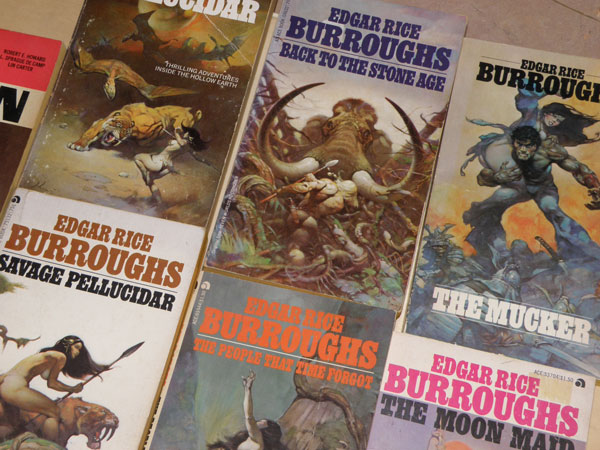 Posted on May 18, 2010 by Doug Lefler | Category(s):
News
(reposted from sevenextraordinarythings.com)
Like many artists of my generation I can divide my early development into two categories; before I saw my first Frank Frazetta painting, and after. I remember the day. I was crossing the floor of the Santa Barbara Public Library near a rack of paperback novels they recently made available for check out, when Frank's "Death Dealer" stopped me in my tracks. I studied it in amazement. Then it occurred to me there might be other books with covers by the same artist. I searched quickly, fearful that someone else would find them before I did. My second discovery was "The Moon Maid", which was not only a painting of a naked woman riding on the back of a centaur (more than I could've hoped for already) but the story was by Edgar Rice Burroughs (my favorite author, at the time).
I checked both books out, hurried home, took out pencil and paper, and began to copy them. From that moment on I knew I could not be satisfied until I taught myself to draw as well as Frazetta. He had set the bar. In my youthful optimism I sought to match him. Thirty years later I still haven't succeeded in this ambition, and I doubt I ever will. But this much is certain; however well I can draw today I owe directly to Frazetta.
Frank Frazetta passed away on May 10, 2010. There will never be another like him.